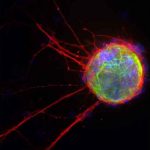 Jelena Ban and Antonela Petrović participated to the  Brain'Art Challenge. Their artwork "The sun" has been selected and will be displayed in Liège-Guillemins train station, Europa 50 area, from 1st October to 30 November 2018.
Brain'Art Challenge is part of the Belgian Brain Congress with the purpose to increase awareness about brain research and brain disorders and to fund medico-social projects for brain-related diseases.
More information can be found
HERE
.