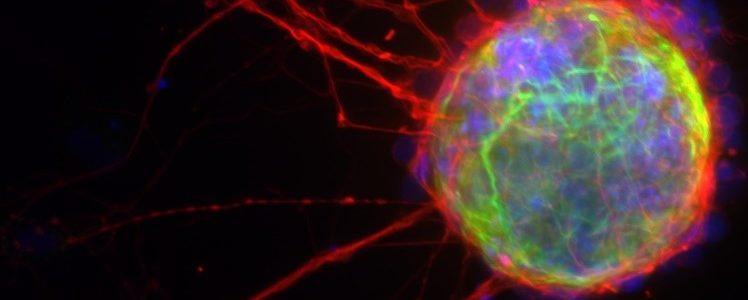 Brain'Art Challenge* is part of the Belgian Brain Council with purpose to increase awareness about brain research and brain disorders, and funding the medico-social projects for brain-related diseases.
Jelena Ban and Antonela Petrović participated in the Brain'Art Challenge 2018. Their artwork "The sun" has been selected and displayed in Liège-Guillemins train station, Europa 50 area, from 1st October to 30th November 2018. The artwork was later sold at an auction and contributed to a medico-social project for brain diseased patients.
*https://braincouncil.be/images/BRAINART/view
The sun
The image illustrates a neurosphere ("the sun"), sphere-shaped structure formed by dissociated spinal cord from neonatal opossums (Monodelphis domestica) and composed of fluorescently stained neurons (red), neural precursors (green), with cell nuclei stained in blue. Neurons are also elongating from the neurosphere continuing their differentiation and maturation in culture.
This work was funded by the Croatian Science Foundation project IP-06-2016 "Exploring the borderline between neurodegeneration and neuroregeneration: identification of key molecules with proteomics and functional assays in the mammalian spinal cord" (principal investigator: prof. Miranda Mladinić Pejatović). The equipment used for this study was financed by European Regional Development Fund (ERDF), within the project "Research Infrastructure for Campus-based Laboratories at University of Rijeka".
https://braincouncil.be/en/brainart/brainart2018/52-jelena-ban-the-sun.jpg/view
https://braincouncil.be/en/brainart/51-jelena-ban-noodles.jpg/view
https://braincouncil.be/en/brainart/brainart2018/53-jelena-ban-radial-growth.jpg/view