"Micro-Macro Art" project integrates art, science, and technology. In collaboration with prof. Ingeborg Fülepp, project leader and head of the Center for Innovative Media at the Academy of Applied Art, University of Rijeka (CIM-APURI), our laboratory participated in this initiative. Sandra Debanić, master student at APURI created her artwork "GLIA- the forgotten brain cell on textile" in collaboration with Jelena Ban. Her artwork was exhibited during "Micro-Macro Art 2017" exhibition on the 25-28 April 2017, SKC Gallery in Rijeka.
More about this event can be found here.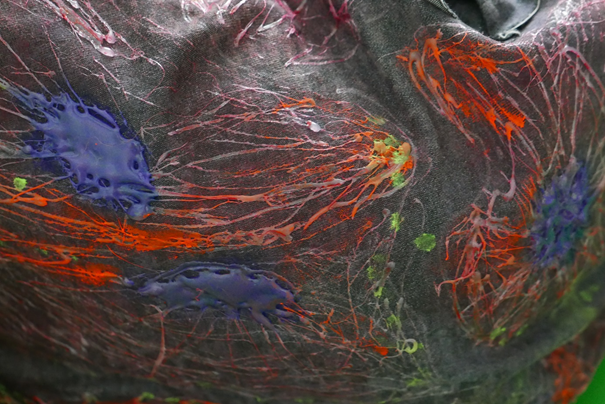 GLIA- the forgotten brain cell on textile
This artistic installation, in the process of exploring macro glial cell particles, raised the question: how important are glia? The combination of art and science, amalgamation of artistry in collaboration with biotechnology, has started the process of creating artwork. The ongoing research together with the observations of neuroscientist who have manually drawn glial cells in the past, has been transferred to the textile, transducing the dimension from micro to macro.